30/07/15
Neste post vamos dar uma olhadela ao que usaram os membros da família de Beatrice Borromeo no casamento civil do passado Sábado. 
In this post let's have a look at what the members of Beatrice Borromeo's family wore to the civil wedding last Saturday. 
***
Lavinia Borromeo, irmã mais velha de Beatrice, casada com John Elkann, neto do falecido milionário dono da FIAT, Gianni Agnelli, optou por um conjunto Armani Privé. 
Lavinia Borromeo, older sister of Beatrice, and married to John Elkann, grandson of the late owner of FIAT, Gianni Agnelli, opted for a Armani Privé outfit. 
Armani Privé é o braço Alta-Costura da Armani e, portanto, a maior parte das criações são feitas à medida para as clientes. Este parece ser o caso. No entanto, é fácil notar as semelhanças entre as roupas que Lavinia usou e estas apresentadas na colecção Armani Privé Primavera/Verão 2015. 
Armani Privé is the Haute-Couture branch of Armani and so most of its creations are bespoke. This seems to be the case as well. But it is easy to note the similarities between the outfit Lavinia wore and this one presented in the Spring 2015 collection of Armani Privé. 
 ***
Já Isabella, a mais velha das irmãs Borromeo, optou por um vestido em tons semelhantes aos da irmã Lavinia. 
Isabella, the eldest of the Borromeo sisters, opted for a dress in a similar colour of her sister Lavinia's outfit. 
Não sei qual é a marca do vestido mas desconfio ser Valentino. / I don't know the brand of her dress but I believe it might be Valentino.  
***
 Matilde Borromeo, a mais nova das três irmãs de Beatrice, usou um vestido Valentino. 
Matilde Borromeo, the youngest of Beatrice's three sisters, wore a Valentino dress.
Embora a imagem não tenha grande qualidade, penso que este foi o vestido usado por Matilde:
Even though the picture hasn't a great quality, I believe this was the dress worn by Matilde:
Os sapatos de Matilde também são Valentino. / Matilde's shoes are Valentino as well.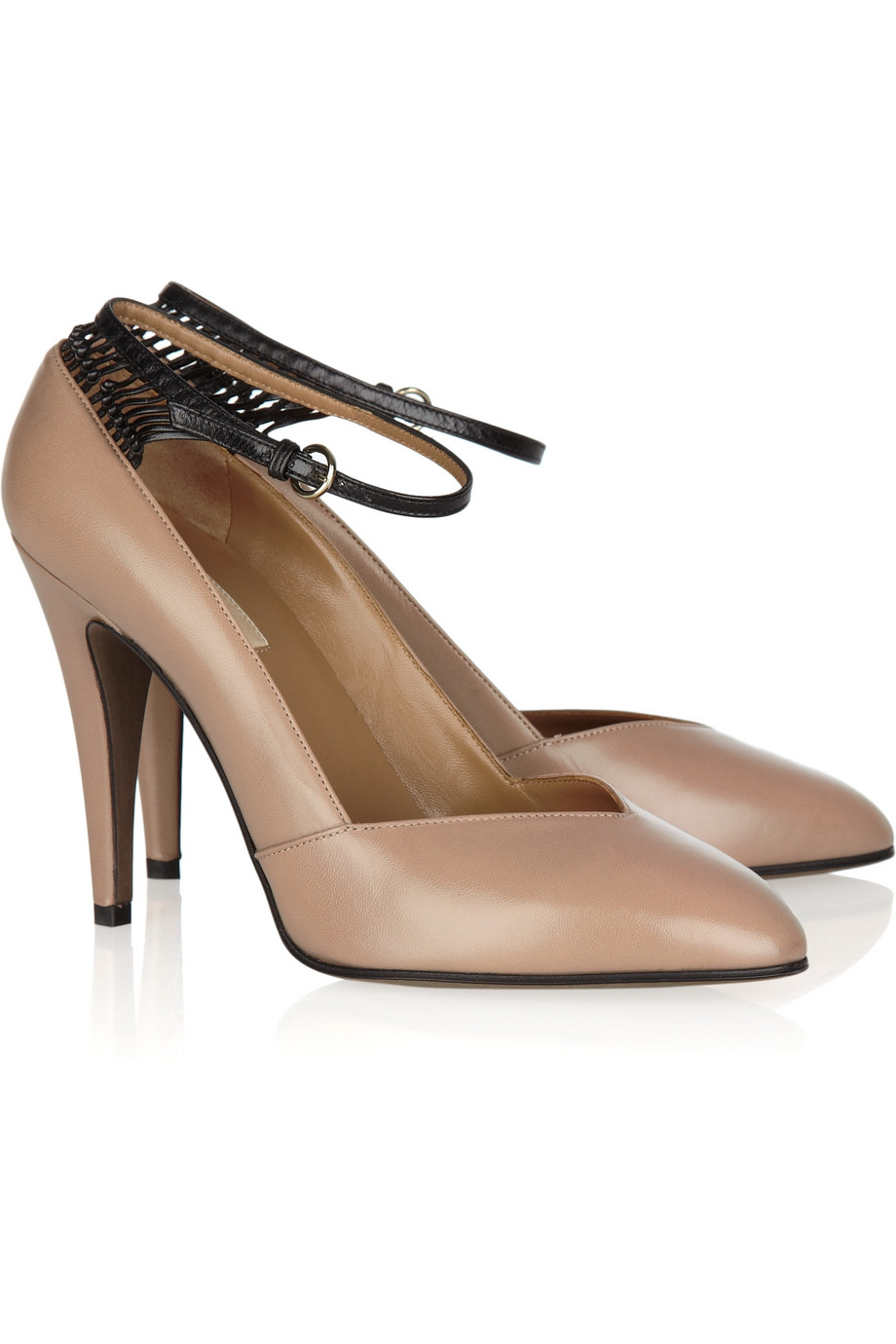 ***
Já a cunhada de Beatrice, Marta Ferri, usou uma criação feita por ela própria. 
Beatrice's sister-in-law, Marta Ferri, wore a creation of her own atelier. 
Instagram de Marta Ferri
 Segundo a foto publicada no seu instagram (acima), o chapéu que Marta usou é do britânico Piers Atkinson. A parte de trás pode ser vista na foto abaixo. 
According to the photo she posted on her instagram (above), Marta's hat is from british hat maker Piers Atkinson. Below you can see the hat from behind.
Embora eu acredite que o chapéu foi feito especialmente para Marta, não há dúvidas de que se assemelha bastante a este da colecção Racing 2012 do designer.
Even though I believe this hat is bespoke, there is no doubt that it is similar to this one from the designer's Racing 2012 collection.
Facebook de Piers Atkinson
 Marta adornou o seu vestido com um cinto Roger Vivier. / Marta adorned her dress with a Roger Vivier belt.
***
Já a mãe de Beatrice, Paola Marzotto, optou por um vestido num tom dourado cuja marca desconheço.
Beatrice's mother, Paola Marzotto, opted for a dress in a golden shade. I don't know which brand it is.  
***
Também não sei qual o designer do vestido/kaftan de Marta Marzotto, avó de Beatrice.
I also don't know who designed the dress/kaftan of Marta Marzotto, Beatrice's grandmother.